Blog: Exchange student Sinead in Holland
Dinsdag 20 maart 2018
Blogs
Sinead kwam in december 2017 voor drie maanden vanuit Nieuw-Zeeland naar Nederland om kennis te maken met de Nederlandse cultuur. De tijd vloog voorbij en ze deelt graag haar ervaringen met ons.
I've had the best time on my exchange in the Netherlands, meeting loads of new people and making new friends from all over Europe. I thought three months was gonna be such a long time, but it feels like I left only a couple of weeks ago. I wish I could have stay much longer in this great country!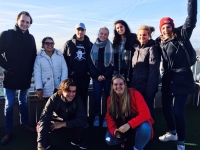 School was a lot of fun and everyone in my class was so welcoming. I learned so much about your culture, your funny habbits, like kissing everyone at a birthdayparty or the fact really everyone has at least one bicycle at home.
My host family was so amazing and saying goodbye to them was probably the hardest part of my exchange. I felt very welcome and really a part of this wonderful family.
Thank you for making my exchange possible!!
Dit vind je misschien ook interessant